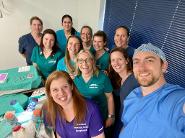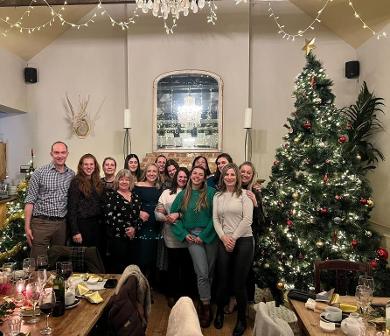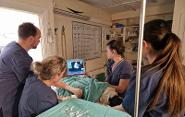 Jo Bellis
Practice Principal, Cat advocate
BVM&S MRCVS
Since January 2019 Jo has become the new principal of Downwood Veterinary Practice Ltd. She is keen for Downwood to remain the friendly, independent practice that Robin spent many years creating, providing high quality medical and surgical services for your pet.
Jo qualified from Edinburgh University In 2006 and after 4 years of working in mixed practices she became a small animal locum working locally. She enjoys all aspects of small animal practice but has a keen interest in small animal surgery and she is a qualified acupuncturist.
Jo is married and lives with Ian, an equine Vet. They have 2 children and share their house with their rescue dog, two cats and three alpacas! Outside work Jo enjoys spending time with her family and the occasional round of golf.
Tom McNaughton
BVSc MRCVS
Tom graduated with a Bachelor of Veterinary Science from Massey University, New Zealand in 2010.
He spent his first year in practice as an intern at a specialist clinic in Auckland, before returning to the UK where he grew up.
Since then he has been working in small animal practices across the South East and has neutered over 600 cats for charity projects in Greece.
He joined the Downwood team in October 2021.
At home, Tom is married to a wildlife vet, has a young son and a veryexcitable cat called Lomu.
In his spare time, he enjoys outings with his family, cycling along the South Downs and the occasional game of tennis.
Sarah Pile
BVM&S MRCVS
Sarah qualified as a vet from Edinburgh University in 2003.
She initially worked for 5 years in mixed practice in Newcastle before moving south to concentrate on just small animal work. Sarah works at the practice part time as she has a young family and a large number of pets / small farm herself including her big lurcher Pluto... You may see Pluto lying patiently at Reception.
Elly Brocklebank
BVMedSci BVM BVS MRCVS
Elly graduated from the University of Nottingham in 2012, and worked for a veterinary charity for the last 10 years, in Leicester and more recently in Brighton, when she relocated to East Sussex to be closer to family. Elly joined Downwood in Feburary 2023, working 3 days a week.
Elly has 2 young girls, Emily and Olivia, that keep her and her husband busy/tired! Outside of work they enjoy trips out as a family, messing around on the water around the IOW, bike rides, and trips away in their caravan.
Natalie Roberts
Head Nurse, cat advocate
RVN
Natalie qualified as a Veterinary Nurse in 1998 and became Head Nurse at a local practice. She changed careers in 2002 and joined a
Veterinary pharmaceutical and equipment company where she sold equipment and consumables but missed the nursing side of the job, so left and resumed Veterinary Nursing.Natalie really enjoys general nursing, she has a special interest in theatre, anaesthesia and inpatient care.
She joined Downwood Veterinary Centre as Head Nurse in 2004, She is also our Insurance claims administrator, fixer of all things and our IT specialist!! She lives locally with her husband, their 2 boys and their crazy Hungarian Vizsla called "Vinnie".
She enjoys baking, walking, socialising with friends, going to the cinema and dining out. She also enjoys foreign travel especially cruises!
Rebecca Saunders
RVN
Rebecca qualified as a veterinary nurse in 2004. Since then she has worked at a variety of local practices as head nurse, senior nurse and clinical coach.
She has also spent a period of time teaching veterinary nursing at the local agricultural college.You may remember that Rebecca Previously worked at Downwood (for 12years) and she has just rejoined the team as RVN and clinical coach.
She enjoys all aspects of nursing but especially mentoring the student nurses and nursing clinics.
She lives with her husband, 2 children, dog, 2 cats, 2 rabbits and plenty of fish!

Annette Smith
RVN
Annette joined Downwood Centre in March 2021 after an 8 year break from Veterinary Nursing. Annette qualified in 2005 as a Veterinary Nurse, after quite a few years in practice she went on to teach Veterinary Nursing at Plumpton College.
Annette is also a qualified equine and human sports massage therapist which she does in her spare time.
She lives locally with her husband, 2 girls, a black lab called Sparky and their 2 cats Poppy and Dude.
When she has any spare time, she enjoys keeping fit, walking, socialising with friends and eating out.
Chloe Goatcher
RVN
Chloe also joined us in March 2021. Chloe has been nursing for the past 7 years and qualified in 2020.
She has a passion for inpatient care and general nursing. She loves working as part of a team and also enjoys nurse clinics.
Chloe lives locally with her husband, 2 young children and her pet gecko Cooper.
In her spare time Chloe enjoys family walks, socialising with friends and attending the odd dance class!
Farrah Lusted
SVN
Farrah started with us part time in October 2018. She has just recently completed her training at Plumpton and gained her ANA ( Animal nursing assistant ) qualification with a distinction! Farrah is continuing her training to become a fully qualified RVN, she is currently in her final year.
Since leaving School she has worked with horses at various competition yards, but due to a bad accident in 2016 and after much soul searching in Australia she decided that she still wanted to work with animals ... just smaller ones!
Farrah and her family have been clients of ours for over 15 years and found out about a position whilst Merlin her lovely lurcher was in with a cat pad. In her spare time she enjoys baking, socialising with friends and family and loves walking the dog, riding and competing.
Michelle Westlake
DipAVN(small animal) RVN
Michelle qualified as an RVN in 2001 and worked for many years at a busy small animal referral and emergency hospital seeing a variety of critical cases.
She achieved a higher education diploma in veterinary nursing in 2011 and a BSc hons in clinical veterinary nursing in 2014. She hasdeveloped a keen interest in senior pet care.
Michelle went on to become a lecturer at Plumpton college before returning to clinical practice at Downwood in March 2023, she is loving being back to hands on nursing.
Home life is busy with a young daughter, her cat Pippin and tortoise named Joey. In her spare time she enjoys getting outdoors with friends and family, Pilates and classic cars.
Rosie Powell
RVN
Rosie qualified as a Veterinary Nurse in 2021 and joined the Downwood Team in October 2023.
She enjoys all aspects of Nursing but particularly surgery, anaesthesia and emergency patients.
Rosie is very fortunate to have grown up on a farm with her Mum, Dad and brother, meaning caring for animals has been a daily focus from a very young age.
She now lives with her partner and cocker spaniel Charlie.
In her spare time, Rosie enjoys riding her horse, walking Charlie and generally spending time outdoors.
Rumer Crawford
SVN.
Rumer started with us in June 2022 as a kennel assistant, she is now in her 1st year training as a student veterinary nurse, which she started in January 2023 at Plumpton.
Before joining Downwood, she had spent a year volunteering at a wildlife rescue centre.
Rumer has grown up around a variety of animals including small and farm animals. She has always wanted to pursue a career in animal care.
In her spare time she enjoys socialising, walking her terrier "Poppy" or riding / competing her horse "Conker" locally.
Maria Brett
Practice Manager, Cat Advocate
VPAC APHC
Maria has been working within the Veterinary Profession for the past 30 years, previously nursing and then in administration and management. She joined us as Practice Manager in 2007.
Maria is also an advanced Pet Health counsellor, she runs our weight clinics and is a mental health first aider. In 2019 Maria also competed a course on bereavement support. ( read about bereavement support on "saying goodbye" tab).
In her spare time she enjoys looking after her 2 cats, guinea pigs and her rescue dog Ollie.
Maria is married and met her husband Phil who worked for a local animal rescue centre, at Downwood!
Tina Givan

ANA
Tina joined our reception team in 2000 and since then she has attended college to gain her ANA ( Animal Nursing Assistant qualification in 2005 with a distinction.
Out of work she enjoys socialising with friends and she enjoys spending time with her family including her young grand daughter
Jan James

Jan has worked as a receptionist at the Downwood Veterinary Centre since February 2006.
She has had many years experience dealing with the public in various working environments. In her spare time she enjoys walking her new rescue Lhaso Apso "Pebble", socialising with friends, eating out and foreign travel.
At weekends she is an avid clay pigeon shooter with a local club, she has won a couple of C class competitions. She has recently become a Grandmother and is enjoying spending time with her new grandson.
Jackie Flitter
ANA
Jackie joined us at Downwood Veterinary Centre in 2003 after deciding on a career change following 20 years in hairdressing.
She attended Brinsbury College one day a week and gained her ANA ( Animal Nursing Assistant) qualification in 2006 Jackie shares her family home with her 5 cats! and their dog Rosie.
Jackie likes to spend her time with her 3 children and her 4 grandchildren who keep her very busy! She also likes gardening, cooking, exploring new walks with their 2 spaniels. She has also recently found a love for cruises and is looking forward to planning more in the future!
Sam Pindard
Sam has worked as a Veterinary receptionist since 2007 in local practices. She joined the Downwood team in July 2023 and works at our Ringmer branch.
She loves working within the animal industry, she has a passion for dogs and when she is not at work, she enjoys dog grooming at home, going to dog shows and events.
Sam also loves spending time with her family and holidays with her friends!
Sam has 2 dogs, a toy poodle called Lulu and a lurcher called Autumn, she also has a tabby cat called Chester
Lisa Chase
Lisa Joined our receptionist team in 2022.
She has several years of experience in customer facing roles and holds a degree in animal management.
Lisa lives locally with her husband, 2 young kids and a rescue cat called Izzy.
Lisa is a Shodan ( a black belt) in Karate and won gold in the world championships in her category in 2015!
She enjoys crafting and loves crocheting cute outfits and accessories for the family. She also has a love of learning and has just completed a Swedish massage course.