Before you get your puppy
Includes:
Developmental Deadlines

Education

Evaluating your puppie's progress

Housetraining

Puppy Priorities
Downwood Vets would like to introduce the latest four legged member of the Downwood family, Alfie.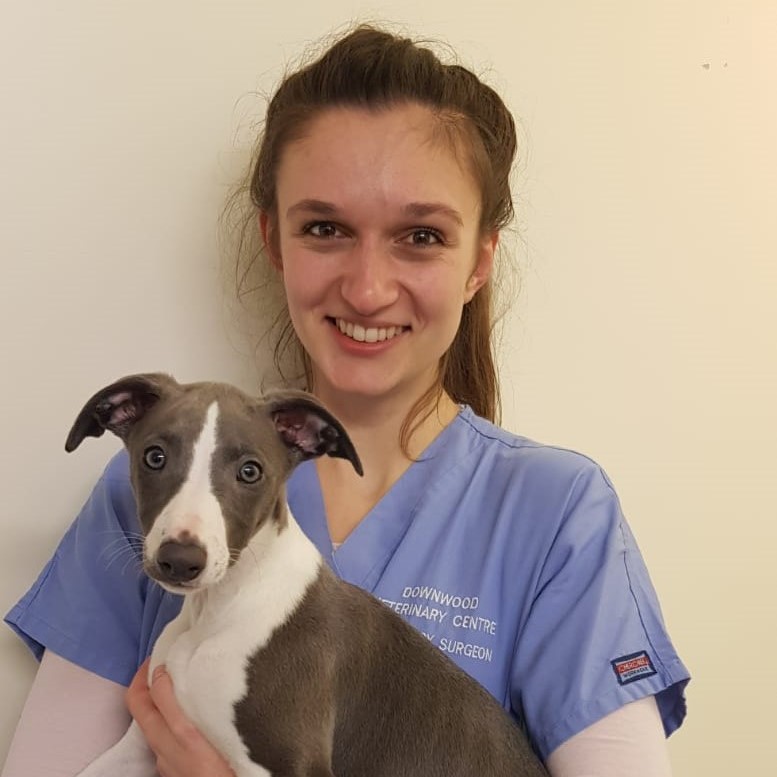 Alfie belongs to one of our vets, Claire.
We are aware that welcoming a new puppy into your life is an exciting and busy time, and understandably, you want to make sure he/she is kept in the best possible health.
Here at Downwood Vets, we welcome and encourage routine health checks for your beloved new family member from puppyhood and throughout their adult life. It is important your pup is as comfortable as possible with visiting the vets, so here are some helpful tips to make the experiences positive; - Come and say hello! We love meeting new puppies, so please come and introduce them to reception for some cuddles even if they are not yet fully vaccinated, it is advisable to still carry them in your arms to get used to the sights and smells of the practice (and the outside world for that matter). - Visit in between vaccinations. Your puppy/dog may find injections a little bit itchy and strange, to prevent them always associating the vet with this sensation, pop in and ask us to feed him/her some treats. - Ask us questions.
Our team are here to help you, so please feel free to ask questions you may have about your pup, we appreciate there is a lot of information to process about worming, flea/tick treatments, diet, neutering, insurance and socialising! The Kennel Club have some useful information about taking your puppy to the vet for the first time at the following link https://www.thekennelclub.org.uk/…/gener…/visiting-your-vet/ We look forward to meeting your new puppy!

After you get your puppy
Includes:
Socialization with people

Learning bite inhibition

Adolescent Problems
You can also Download the FREE official Kennel Club Puppy Buying Guide (available on Android and iOS) for helpful information, tips and a checklist for that important decision in life.
How to download the app
You can download the app directly onto your phone from:

This app delivers essential information to help you decide if you are ready to own a puppy and guidance on choosing the right breed, crossbreed, pedigree or rescue dog that is right for you and your family. Once you pass this first stage, you can progress to how to go about buying your puppy including a helpful checklist with essential information to ask your breeder. Once you have purchased your happy, healthy puppy the last two stages are tips on taking your puppy home and training and health tips for those important first few weeks.

Key features:
Advice on how to choose and care for your puppy
Check list on what to ask the breeder
Helpful links to search for local breeds, clubs and training advice
Browse through the journey of purchasing a puppy
Simple design with easy navigation and efficient browsing
Tips and hints throughout the journey of content